Rockford, Minnesota
Discover country living at its finest in the West Metro's quaint community of Rockford, Minnesota. Our River Run development features upscale lots overlooking the Crow River, directly across from beautiful Lake Rebecca Park Reserve's gently rolling landscape and wetland areas.

Enjoy deeded private access to abundant river and recreational amenities for the whole family, including a river view pavilion, recreational commons, pond, ice-skating, walking trails and picnic areas to delight in.

River Run's gracious 1/3 to 2/3 acre lots provide the perfect location for your new home within the Rockford School District. Prices begin at $63,000 and include city water and sewer.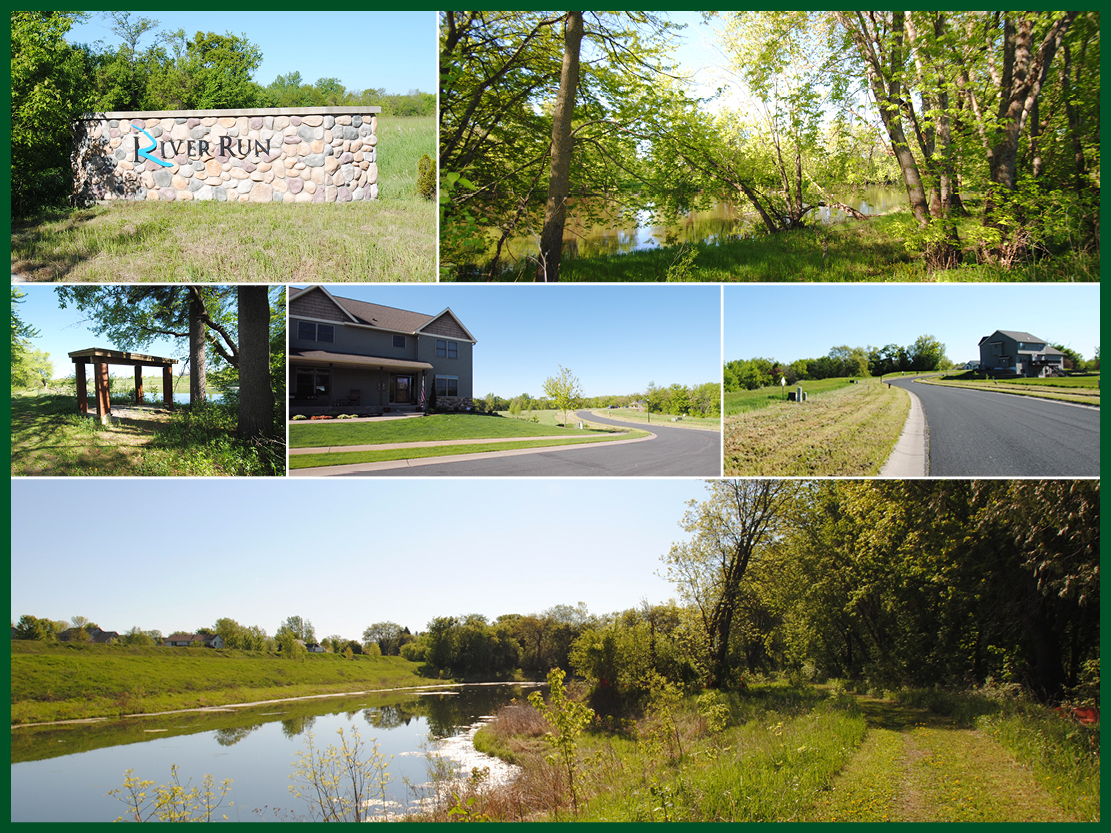 Location Map
Site Map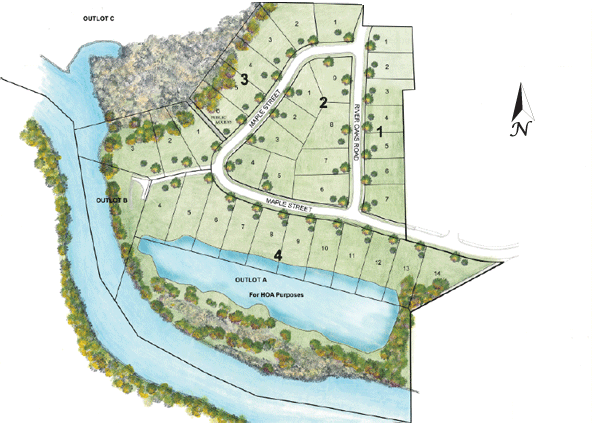 Pricing
Lot Block
Lot Status
Address
Dimension
Size
Description
Type
Price
∘ Prices subject to change without notice
∘ Dimensions and sizes are approximates only
∘ Width dimensions are at builder setback
∘ Some modification may be required — lowest floor elevation can not go below lowest pad elevation
Lot 1, Block 1
Available
4952 River Oaks Drive
99x129
13,767 sq.ft.
Standard
Rambler Walkout
$74,000.00
Lot 2, Block 1
Available
4950 River Oaks Drive
80x148
12,140 sq.ft.
Standard
Rambler LO / WO
$70,000.00
Lot 3, Block 1
Available
4948 River Oaks Drive
82x121
10,884 sq.ft.
Standard
Rambler Lookout
$63,000.00
Lot 4, Block 1
Available
4946 River Oaks Drive
89x121
10,920 sq.ft.
Standard
Rambler Lookout
$63,000.00
Lot 5, Block 1
Available
4944 River Oaks Drive
85x128
10,978 sq.ft.
Standard
Rambler LO / WO
$66,000.00
Lot 6, Block 1
Available
4942 River Oaks Drive
85x130
11,046 sq.ft.
Standard
Rambler Walkout
$66,000.00
Lot 7, Block 1
Available
4940 River Oaks Drive
85x130
14,992 sq.ft.
Standard
Rambler Walkout
$66,000.00
Lot 1, Block 2
Available
4836 Maple Street
124x127
12,196 sq.ft.
Standard
Rambler Lookout
$74,000.00
Lot 2, Block 2
Available
4838 Maple Street
84x127
11,821 sq.ft.
Standard
Rambler Lookout
$72,000.00
Lot 3, Block 2
Available
4840 Maple Street
108x145
13,456 sq.ft.
Standard
Rambler Lookout
$72,000.00
Lot 5, Block 2
Available
4848 Maple Street
109x126
12,777 sq.ft.
Standard
Rambler
$70,000.00
Lot 6, Block 2
Available
4941 River Oaks Drive
107x177
17,118 sq.ft.
Standard
Rambler Lookout
$63,000.00
Lot 7, Block 2
Available
4943 River Oaks Drive
85x152
14,327 sq.ft.
Standard
Rambler Lookout
$63,000.00
Lot 8, Block 2
Available
4945 River Oaks Drive
147x83
17,403 sq.ft.
Standard
Rambler Lookout
$63,000.00
Lot 1, Block 3
Available
4831 Maple Street
118x125
16,627 sq.ft.
Marsh / Wetland
Rambler LO / WO
$80,000.00
Lot 2, Block 3
Available
4833 Maple Street
89x130
18,519 sq.ft.
Marsh / Wetland
Rambler Walkout
$90,000.00
Lot 3, Block 3
Available
4835 Maple Street
90x190
19,807 sq.ft.
Marsh / Wetland
Rambler Walkout
$109,000.00
Lot 4, Block 3
Available
4837 Maple Street
90x190
17,390 sq.ft.
Marsh / Wetland
Rambler Walkout
$109,000.00
Lot 5, Block 3
Available
4839 Maple Street
90x191
17,418 sq.ft.
Marsh / Wetland
Rambler Walkout
$109,000.00
Lot 6, Block 3
Available
4841 Maple Street
100x180
16,497 sq.ft.
Marsh / Wetland
Rambler Walkout
$106,000.00
Lot 1, Block 4
Available
4843 Maple Street
104x180
18,705 sq.ft.
Marsh / Wetland
Rambler Walkout
$108,000.00
Lot 2, Block 4
Available
3000 Lookout Point
109x223
19,379 sq.ft.
River / Pond
Rambler Walkout
$111,000.00
Lot 4, Block 4
Available
3003 Lookout Point
116x191
21,794 sq.ft.
River / Pond
Rambler Walkout
$111,000.00
Lot 5, Block 4
Available
3001 Lookout Point
90x245
23,367 sq.ft.
River / Pond
Rambler Walkout
$111,000.00
Lot 6, Block 4
Available
4845 Maple Street
96x205
19,599 sq.ft.
River / Pond
Rambler Walkout
$110,000.00
Lot 7, Block 4
Available
4847 Maple Street
90x198
18,099 sq.ft.
River / Pond
Rambler Walkout
$110,000.00
Lot 8, Block 4
Available
4849 Maple Street
90x198
19,035 sq.ft.
River / Pond
Rambler Walkout
$106,000.00
Lot 9, Block 4
Available
4851 Maple Street
90x199
18,302 sq.ft.
River / Pond
Rambler Walkout
$106,000.00
Lot 10, Block 4
Available
4853 Maple Street
90x207
19,044 sq.ft.
River / Pond
Rambler Walkout
$106,000.00
Lot 11, Block 4
Available
4855 Maple Street
97x213
19,319 sq.ft.
River / Pond
Rambler Walkout
$104,000.00
Lot 12, Block 4
Available
4857 Maple Street
90x212
19,031 sq.ft.
River / Pond
Rambler Walkout
$104,000.00
Lot 13, Block 4
Available
4859 Maple Street
90x210
19,015 sq.ft.
River / Pond
Rambler Walkout
$108,000.00
Lot 14, Block 4
Available
4861 Maple Street
220x210
27,677 sq.ft.
River / Pond
Rambler Walkout
$87,000.00